Broken capillaries occur commonly on the face and can sometimes be associated with an underlying medical condition called rosacea. Both conditions respond well to medical and laser treatment. Before starting any laser treatment involving the mid-face, record your skin condition accurately with the Visia Skin Complexion Analysis system. This computerised digital recording system allows for easy follow up of results post laser therapy. The lasers used for broken capillaries at Skin Temple include the Coolglide Laser, the Laser Genesis, IPL or intense pulsed light (all made by Cutera, one of the world's best laser companies in the USA), and the Diolite 532nm laser.
Severe redness of the face can be treated with a Medicare rebatable procedure, combining one or more wavelengths together, and is one of the few procedures recognised by the Government as being of more than just cosmetic importance.
Sometimes ageing or an underlying medical condition can cause the growth of multiple red skin lesions, called haemangiomas. This can occur as part of ageing (Campbell de Morgan lesions) or can be associated with an underlying genetic condition called Osler's disease. Both of these conditions can be successfully and quickly treated using the Coolglide laser system.
Diffuse redness of the face or neck responds well to careful treatment with the Laser Genesis and intense pulsed light system. It is very important to see an experienced practitioner for treatment of the neck area as it is an area very prone to scarring if the treatment is done too aggressively or in the wrong order.
Broken capillaries before and after: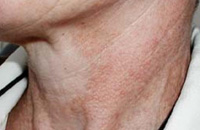 Below is an example of the skin analysis taken by Visia Skin Complexion Analysis system