How well does your sunscreen work? In fact, does it actually work at all?

I've been a skincare obsessive since the age of 16, when I decided to stop trying to get a real tan, and come to terms with being white.  Or should that be White? So, in a single summer I went from being the most tanned in my class, to being one of the whitest.  And I became a little obsessed with sunscreen (and vitamin D supplements).
Fast forward 34years, a medical degree, and my lifelong love of skincare is unabated.  But I also love a good device. Especially ones that aid communication in the
cosmetic dermatology
area! Being a busy working single parent with a job that involves educating people on cosmetic skincare, I'm often time poor, and I know that many of my patients are in a similar position. Understanding cosmetic skincare is so fundamentally important to your skin's health though.  After all, what's the point of all those facial laser and injectable procedures if your skin still can't cope with your lifestyle?
So some of my favourite technologies are the photographic imaging devices that are helping doctors to demonstrate the effectiveness of sunscreen.
I recently attended the Australasian Society of Cosmetic Dermatologists conference, where I spotted a Skinscope device at the Skinceuticals stand.
We also have a Skinscope device at Skin Temple, however I'm usually too busy consulting to get to play with it.  So I thought I'd go and have my photo taken using the UV filter on the Skinscope device.  UV filters are such a great way to investigate sunscreens, and what better way to see how well you applied your sunscreen that day?  In fact, I often use my Visia device in the consulting room for this purpose too!  Unfortunately, many patients find that their trusted "sunscreen" isn't actually doing anything at all. Sometimes this is because it hasn't been applied evenly, or has been overly rubbed in (male patients are especially guilty of this), and sometimes it's due to an inherent formulation problem in the product.
Trivia fact: The Visia machine was originally developed as a tool for sunscreen product research by Proctor &Gamble in the USA.
Here's my pic on the Skinscope device:
So it's easy to see where I've applied the sunscreen that day..and the areas of white skin without sunscreen.  Luckily, I seem to have covered most parts of my face pretty well (must be all that practice, since I don't even leave the house without it on!) and have taken it fairly close to the junctions with my eyes, eyebrows and hairline. Some sunscreens look quite purple under a UV light, whereas others will look almost black. It's always easy to see if they're working (don't waste your time relying on a SPF15+ product though..they can be very hit and miss in terms of their efficacy) but remember that just because it works at 8am, it rarely means that it's still working at 3pm, and if you haven't applied it properly in the first place then don't be surprised if you still end up getting precancerous and eventually cancerous sun damage.
In the example above, I'm wearing La Roche Posay Uvidea SPF50+, which is a chemical sunscreen that also doubles as a light foundation, and on top of that is Skinceuticals UV Defence SPF30+ which is a zinc based mineral sunscreen. I don't generally wear any other makeup products, other than eye makeup, just because I really prefer to have natural looking skin.
I often double up the sunscreen on weekends or if I'm going to be outside in the garden or doing something active like skiing or playing tennis.   As for the grey hairs that are highlighted in the UV light..well that's just a little depressing although I'm trying to age slowly…perhaps it's time for a few lowlights to hide my natural "highlights"?
STILL YOU….ONLY BETTER!
Want to find out more?  Check out our website at www.skintemple.com.au and our facebook page www.facebook.com/skintemple or call us on 03 9867 2992 for an appointment.
---
The Age Beauty Beat Feb 28th 2012
What it means to be clean
February 28, 2012
Really clean … or just a rudimentary rinse?
When you jump in the shower in the morning before work are you really getting clean? Does a quick shampoo and swish with the soap constitute cleanliness or merely a rudimentary rinse? I've been wondering, among other things, if a little more effort might be satisfying after reading a bookin which the protagonist pays great attention to detail when bathing. Nails, ears, between toes, scrubbing with a brush: methodical washing, done routinely and, in his case, ritually.
I admit, sheepishly, that just yesterday one of my sons discovered the benefits of the nail brush. "It really gets the dirt out!" he proclaimed after I suggested he give it a go and reminded him how. It's not that he hadn't used one before; when he was younger I'd applied one fairly regularly but when he got to a certain primary-school age it was not something I wanted to impose (or he was predisposed to). His revelation about the nail brush was on a par with his discovery of flossing.
And how often do most of us use a nail brush? Or scrub behind our ears with a face flannel? Ensure that every part of our body is truly clean? I discovered the power of clean years ago when I lived in Beirut, where I'd regularly attend a hammam with work mates (female ones). There, in the dank, dripping gloom and lung-testing steam, old snaggle-toothed women would scrub us down roughly yet thoroughly with wet towels, lead us to hot baths, icy plunge pools and pummelling showers, before rubbing us down again more gently (and, to my initial discomfiture, probingly). We'd shampoo and deep-condition our hair in the process, and leave feeling really, really clean and relaxed and abreast of the latest gossip.I had a non-communal, lux version of a steam treatment last week at the Skin Temple medi-spa in South Yarra. The hammam there might have been mini but the fitout was Oriental opulent: lantern-lit, jewel-toned, almost other-worldly but without a hint of the authentic grot factor.
would have approved although, as it was non-communal and as far as I could tell intrigue free, might have become a little bored. A therapist led me through two hours of steam, black soaping, scrub, shower and oiling, followed by more steam and massage. I emerged relaxed and with the softest, most beautiful skin. And, just like in the Middle East, super clean and beautifully scented.
Do you take the time to get truly clean? What does this involve? Steam baths are surely the easiest way to scrub and cleanse but how often do you take the time for even a bath at home? There's a certain joy in not bathing when camping or holidaying at the beach but there always comes a point when you just want to be clean again. Properly clean. What does your usual routine include? Use the platform of the blog to reveal your true bathing habits (and any propensity for shared steam).
Natasha Hughes was a guest of Skin Temple
---
The Age Feb Man Scape 22nd 2012
Hands-on help
February 22, 2012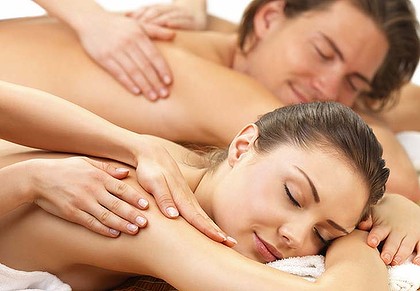 They want to get more men through the door but is there really a place for us in the world of the spa treatment?
Do you enjoy a good massage or does the whole thing rub you up the wrong way?
For Valentine's Day, Mrs Man Scape and I were really pleased to be invited for a romantic His 'n' Hers massage.
The massage at Melbourne's East Day Spa was really nice and in a funny kind of way romantic too, but there was one small incident that got me thinking.
Before our transit from the relaxing foot rub'n'scrub to the sanctuary of the double massage-bedded treatment room I was presented with a pair of 'one-size-fits-all' sandals. Well, believe me, one size does not fit all. I've got large feet sure, but not freakishly big in a Coco the Clown way. And these sandals barely covered my toes!
Advertisement: Story continues below
Going barefoot was the obvious solution so we got on with things (for what we thought of the experience, see Mrs Manscape's beauty beat blog) but the skimpy sandals got me thinking. If their footwear didn't fit me – did I really fit there?
I've been to a few spas in my time and there's always a niggling thought at the back of my head. Are these the sort of places I should be visiting?
Do spas really cater for men as well as they do for women? Isn't the whole experience – the scented oils and oh-so-quiet voices, the tinkly-dinkly music, the drapes and pillows – all a bit anti-man.
Don't get me wrong, I love a good massage, and I enjoy the whole spa experience, but I sometimes think I'm a bit of a fish out of water. I'm sure I'm not alone and I'm also sure that spas would be wanting to get more men through their doors. So what are they doing about it? I asked around and it seems they're all trying their hardest to get their hands on more males.
Do men feel comfortable in spa surrounds?
DR ALICIA TESKA  from Skin Temple in Melbourne: There is no pink in our spa at all. The interior design and colour palette of our spa was designed specifically to not alienate one sex from the other.
INA BAJAJ of East Day Spa: We deliberately made the decor gender-neutral so it appeals to both sexes. It's not a 'girly' spa, it's got an eastern ambience designed to appeal equally to men and women
KRISTY HINES, from the Aveda Mineral Day Spa in Sydney: The neutral surrounds of our spa ensures that men feel comfortable to come in and have a treatment. For some, the initial visit can be a little out of their comfort zone, however they always feel completely comfortable by the time they leave.
What treatments do men favour? Body scrubs? Massage? 
TESKA: In the spa, the hammam and massages are popular. In the clinic, we have a lot of male clients having treatments for acne, tattoo removal, ingrown/unwanted hair and facial capillaries.
HINES: Facials, massages and hand and feet treatments are the most popular services for men. The male clients who frequent the spa more often tend to book in for other body treatments as well such as masques and scrubs.
BAJAJ: To cater for the growing demand for men's spa treatments and therapies, we  devised a spa menu especially for men that offers waxing, eyebrow threading, manicures, pedicures and facials. Massages are consistently popular for their rejuvenating benefits – but men are increasingly seeking appearance-enhancing treatments such as facials, manicures, eyebrow threading and body hair removal.
What sort of men do you get?
HINES: Our male clientele is such a broad spectrum: professionals, tradesmen, dancers,  actors and wealthy retirees. Half of our male clients are regulars with appointments in facial and massage treatments, the other half come for special occasion occasions. Spa treatments are becoming increasingly popular as gifts, such as for Valentine's Day, Father's Day, Christmas and birthdays.
BAJAJ: Our male clients are very interested in treatments that relax them and make them feel better and treatments that make them look better. We see a lot of professionals and executives who know that being well-groomed is essential in the corporate environment. We also see a lot of sportsmen and tradesmen who come in for relaxing massages after a long training session or day on the job. One of our best customers is a construction worker who works on a building site; he visits several times a week.
TESKA: We have had all kinds of men here: politicians, barristers, businessmen, real estate agents, tradesmen, actors and students.  Metrosexual men who are interested in grooming and relaxation love it!  Sometimes they are brought in by their spouse or given gift vouchers for a special occasion.  Sometimes their mothers will send them in, sometimes it's their secretary or personal assistant. Often they are nervous about the initial experience if they haven't done this kind of thing before, but the feedback at the end of the treatment is that the procedure was well worthwhile, and why not?
So spas are perhaps tapping into an unrealised market and, with more man-themed treatments and non-girly surrounds, making an effort to keep them. As Bajaj told me, "Men are very precise and loyal. They find a treatment they like and they return for it time and time again. They never opt for the mini-treatments, they prefer the 60- or 90-minute sessions. If they're going to make the effort to come to the spa, they make the most of their time here."
There's a cultural dimension here too, according to Bajaj. European men are the most adventurous – they're prepared to give new treatments a go. Australians love massages but they're not as willing to experiment. But, as Bajaj admits, that's something they're working on – like most spas, it seems, they are actively trying to get more men to come in for an hour or two. And it's probably no bad thing for men to take some time out for these sorts of things.
When it comes to relaxation, a massage is certainly a healthier way to forget the cares of the day than a bottle of whisky or some lonely late-night TV. As Teska says: "Men suffer from tension and stress just as much as women, so having some time to de-stress is important for everyone."
What about you? Are spas special, are treatments a treat or are you the type of man who'd run a mile before getting a massage?
*The author was a guest of the East Day Spa at Melbourne's Hotel InterContinental.
---
Butterfly Effect Jan 17 2012
Jan 17th, 2012 by Danni Miller
I didn't have pimples very often as a teen but when I did get them, they were huge.
Naturally, on the day we were having school photos one year, right in the middle of my forehead a pimple appeared that was so big I felt like a unicorn. Really, I am not just being dramatic here! It was a study in humiliation. So I get it when girls are deeply upset about having pimples.
And, of course, so do the companies who make acne treatments, who play on teen girls' (and boys') deepest fears in order to move their products. You know the ads: Girl has a date coming up and a pimple appears. The end is nigh; social ruin and a life of compulsive Farmville playing beckons, with only a houseful of cats for company. But wait! Magic tube of ointment makes the zit vanish in two seconds. Cut to girl confidently smiling at the adoring hunky boy.
Ever noticed that the girl is always impossibly thin and gorgeous — in a computer-enhanced, international-model kind of way — and has the most perfect complexion you've ever seen, except for one barely noticeable bump? Think how it looks to a teen who actually does have pimples: if the girl on the pimple-cream ad has perfect skin and is anxious out of her mind, just how anxious should she be? Awesome, now teen girls can feel not only the crushing anxiety of having pimples, but also play the compare-and-despair game with a TV fantasy girl who doesn't even represent what a real girl looks like!
I love this example of the genre — partly because it's so painfully obvious it's dubbed from an American ad, but also because I'd really like to see the school where this young lady is able to waltz in and interrupt a class in order to deliver a note to a boy:
Marketers also use the scientific approach, using fancy words (that usually sound made-up to me) and promises that their product will help girls "control" their breakouts. It's an interesting word, isn't it? As a teen you feel like you have so little control, so how appealing this must be.
Another highly successful tack they take is the celebrity endorsement. Proactiv costs more than many products on pharmacy shelves, even though it shares the same active ingredient as the majority of over-the-counter acne treatments, benzoyl peroxide. How do you get people to pay more for the same ingredient? Have stars that teen girls adore — such as Katy Perry, Justin Bieber and Avril Lavigne — give testimonials for it. (By the way, Jennifer Love Hewitt, whom you may remember from a past blog post as a champion of the fine art of vajazzling, refers to Proactiv as her "ultimate companion". Okay, Jennifer.)
I worry that by manipulating girls' fears of social doom because of pimples, advertisers are encouraging them to use too many harsh chemicals, which strip their skin raw and then cause more problems — which, of course, they then need more products to fix.
I asked Dr Alicia Teska, a cosmetic physician in Melbourne, if girls can harm their skin by misusing over-the-counter acne products, to which she replied, "YES!! YES!! And YES again!! People think that if a little bit of something makes a big difference to their skin, then using a hell of a lot more of it will be a good thing for their skin, and it's actually the reverse. If they overuse medicated products, they will not only strip the outer dead layer of their skin down too much and therefore make it far more susceptible to sun damage, they can create incredible irritation and sensitivity in their skin." This can lead to the development or worsening of eczema.
If you have a girl in your life right now with pimples, it's important to tell her that she's beautiful on the inside and outside, no matter what. It's equally important to listen to her concerns and help her find out the best way to treat acne, rather than just fall for advertisers' promises of instantly amazing skin. Acne really is an issue that needs to be addressed — for instance, a woman I know actually wagged school a couple times as a teen because she felt so ashamed of her skin. So I asked Dr Teska for some practical advice on what girls who have pimples can do.
Home treatments
"You don't need to spend a lot of money on skin care," says Dr Teska. "Cleanse regularly with a combination of mild soap-free cleansers once daily, and AHA or BHA cleansers (or a daily gentle AHA/BHA scrub) once daily to encourage increased turnover of keratin and dead skin cells, as these will easily block pores." (AHA and BHA are types of acids.) "If black- or white-heads have already formed, a night-time treatment with an AHA/BHA gel or topical Vitamin A product (preferably low-strength retinoic acid, not retinol) will be necessary.
"The key is not to rely on only one approach. One needs to attack acne from multiple angles to get a fast response." Dr Teska suggests balancing acid-based products with non-acid-based ones, such as Australia's ASAP and the French brand Avène.
GPs, cosmetic physicians and dermatologists
Dr Teska suggests that girls with any type of acne, even mild cases, should go and see an expert for advice. "If your GP has an interest in skin, your GP might be a suitable point of reference." She says that GPs tend to prescribe long-term antibiotics or the oral contraceptive pill, or may refer patients to dermatologists for the drug Roaccutane. If you are wary of jumping straight to medication, you may want to get an opinion from a cosmetic physician, because while they can prescribe antibiotics and the pill, they also give non-drug-based skin treatments that GPs do not provide.
Does makeup make pimples worse?
A lot of girls want to hide their pimples with foundation or concealer, but wearing makeup to school is a thorny issue in many households, not to mention the old advice that it makes acne worse. "The last thing any teen girl wants to hear is that they can't wear makeup to school anymore," says Dr Teska. "I always say to the girls I see, 'If you feel the need to wear the makeup to cover your acne, then that's okay for the short term.'" Once a girl is on a treatment program and seeing improvement, she encourages them to gradually wear less makeup. "Obviously the sort of makeup they're wearing is important . . . Anything that's oil based is going to dramatically aggravate the acne." Dr Teska suggests girls use only oil-free formulations.
To squeeze or not to squeeze?
I asked Dr Teska about the truth behind the advice that squeezing pimples causes scars. And yes, your mother was right. When you squeeze a pimple, "you're introducing infection and trauma . . . and can cause permanent scarring."
Don't wait
Dr Teska's final words of advice are: "Whatever you do, please ensure that even mild acne problems are treated rapidly. This is a critical time of your teenager's identity development, and issues such as mild or moderate acne may seem trivial to parents, but to a teenager they can have enormous consequences."
---
Spring 2011
OVERVIEW
It's been an incredibly business year at Skin Temple:
We hosted our 1st Birthday Party in August, and then were nominated and won an Award from the Australasian Spa Association in October!!!
Best MediSpa 2011
So thrilled to receive this after only 12months in our new location/structure.
Thank you to all the wonderful people who have helped us along the way..especially our loyal customers, and terrific staff!!  It looks like the year ahead will be even busier!!
1st Birthday Party
Our 1st birthday party was held on Saturday August 27th and was a relaxed and fun way to celebrate our milestone, and reflect on the changes to the business.  Twelve months on and Skin Temple has attracted significant attention in various newspaper and magazine articles, culminating in the Award for Best MediSpa 2011.
We are ever mindful of the support received from our many loyal clients, and have introduced a membership program to reward our most regular customers.
BREAKTHROUGH NEWS
MICRO CANNULAS ARRIVE IN AUSTRALIA
One of the most significant arrivals in years, PixL microcannulas (think of them as a blunt needle- much gentler on fragile skin) has revolutionized the use of dermal fillers. Complimented by SoftFil microcannulas, the risk of bruising is now significantly lower than before, especially in areas in or around the mouth and/or eyes.  We have just filmed a microcannula of the lips and will be uploading this onto YouTube for viewing on our website later this year.
RETAIL REVIEW
SKINCARE FOCUS
Our philosophy in retail skincare products has always been about providing great value for money. We continue to stock skincare ranges for all budgets including Avene and ASAP, and have added two high-end ranges – Phytomer (marine based from France) and Jane Iredale (camouflage makeup from the USA).  The latest addition is a new range of mineral sunscreen and seasonal makeup from Becca (Australia)-arriving in January 2012.
INJECTABLES CLINIC
NATURAL LIFT
The best offer of 2011 so far is undoubtedly the latest package from QMed. Comprised of two 2ml syringes of RestylaneSubQ  (great for instant cheek lifting) and  1ml syringe of Restylane (excellent for perioral use) this package is valued at $3500 and comes complete with the full set of the Restylane Skincare products- all for only $2000*  for a limited time *while stocks last
LASER CLINIC
FRACTIONATED CO2 RESURFACING for advanced sun damage:
The Ultrapulse Deep FX involves some downtime and preparation, however, thanks to the flexibility of its settings the recovery duration can be customised to suit your lifestyle and other commitments. Skin Temple continues to provide a comprehensive range of laser services including skin rejuvenation, capillary removal, pigment removal, tattoo removal and hair removal. The latter for ALL skin types!!
NEWS FROM THE HAMMAM
We've had some terrific feedback and magazine reviews for our Turkish-Style steam room (hammam) and La Sultane de Saba oriental spa products. The plant based, all natural and paraben free range has many fans already and some items have now sold out completely.
We hope to receive a new shipment of product (including the ever popular Ayurvedic fragrance and massage candles from Tahiti and Bali as well as a number of new products never sold in Australia before) early in the New Year.
Meantime, hammam lovers should take note that our new Hammam Package (buy 6, get 6 free) will enable you to enjoy your indulgence on a monthly basis for optimal results.  A unique experience of utter bliss awaits those who haven't tried the hammam yet!
Those with a history of atopic eczema should keep in mind that we have a number of gentler, soap free options for skintypes that can't tolerate dryness.  Ask Angelique or our new Spa Manager Melody for further details.
NEWS FROM OUR SALON
Our Senior Beauty Therapist, Angelique Verlaque is now completing her 3nd year of Dermal Therapy at Victoria University and continues to impress all with her attention to detail and friendly personality. Angelique is now well-versed in Shellac application (and removal) and has converted many clients from gel and acrylic nails to Shellac.
A number of new Shellac colours arrived in early September so please remember that all of them can be layered for a completely different end colour.  Unlike regular polish, Shellac is ''çured'' under a UV light, so there is no risk of smudging!  Which is a major bonus if you want to wear shoes straight after a pedicure!
Just had your frown Botoxed (or Dysported!) for the first time? Remember to have Angelique review your eyebrow shape as those who pluck or wax their eyebrows may require some adjustments post frown treatment.  We also have some fab new Brow Kits available for those with patchy areas!
FOCUS IN DEPTH
SCULPTRA
Sculptra (previously known as New Fill) arrived in Australia in 2001. It was developed in Europe in the late 90's and used initially as an alternative to collagen injections.
Today its use is largely for those wanting a more gradual and natural looking result (taking up to 12 months to reach full effect). Sculptra is extremely popular with older clients with thinner skin who are looking for a discrete and gradual plumping-up effect.
The main drawback in recent years has been the risk of bruising (and therefore prolonged downtime), however now, thanks to microcannulas, it can be safely injected into the subcutaneous layers with very little, if any, bruising. Massaging the skin post treatment remains extremely important, and the product (which comes as a powder) must be reconstituted well ahead of use. More information, including brochures, on this procedure and others are available at Skin Temple.
POSITIONS AVAILABLE
We are currently actively seeking a qualified Remedial Masseur, Podiatrist and Laser therapist. These services will enable us to offer an expanded range of treatments, especially for after hours laser hair removal (medically supervised of course!)
If you know of anyone suitable please pass on our details and ask them to contact reception.
BOOKING AND CANCELLATION POLICIES
Like any service orientated business, we are concerned by the continued number of bookings that are cancelled or rescheduled at very little notice (if any) and the impact this has on the Spa in particular.  For this reason, we have now introduced a policy of 50% deposit for any Spa or Salon booking of greater than 15mins duration.  Please note that this policy is separate from the usual credit card policy in place for medical bookings with Dr Teska.
All spa bookings that have paid a deposit will lose that amount in the event of a no-show or cancellation with less than 24hrs notice.
All spa bookings that have paid a deposit will have the option of selecting a refund or credit to account for a cancelled booking of more than 24hrs notice.
Have a wonderful Christmas and a safe and relaxing Summer, wherever you spend it, and we'll look forward to seeing you soon!
Christmas Opening Hours
Last day for Dr Teska- Thurs December 22nd
Last day for spa/salon/retail purchases- Fri December 23rd
Reopening Wed January 11th (spa and salon) 2012
Dr Teska is back on Mon January 16th 2012
The Skin Temple Team
---